Dear Bride,
Whether your divorce took you by surprise or you sensed it was coming. It's always a shock. It's how you react to any shock or crisis that determines the outcome. MOST choose to fight back, which results in your opponent fighting even harder. Fighting back or resisting also means you will lose much more—the relationship that you want.
This book and course are for YOU—if you want the outcome to change. Come up higher than just Facing Divorce, learn how to embrace adversity—enthusiastically and without fear. What you learn won't just be applied to the divorce you face now, but in countless other trials you'll face in your lifetime. Learn it now and enjoy the Abundant Life He longs for you to live!!
★★★★★ The FDA principle of being agreeable is very powerful—when I finally let go, agreed, signed divorce papers— my EH suddenly contacted me and said that the OW is moving out, it was a mistake and he never filed. ~ Tiara 
Spiritual Milestone #7. Becoming HH bride: Testimonies of Finding My HH "Heavenly Husband"
★★★★★ Testimonies
This unique and life-changing FREE course covers two books: Facing Divorce, which is the foundational book that helped Erin go through her divorce and what she said helped restore her marriage.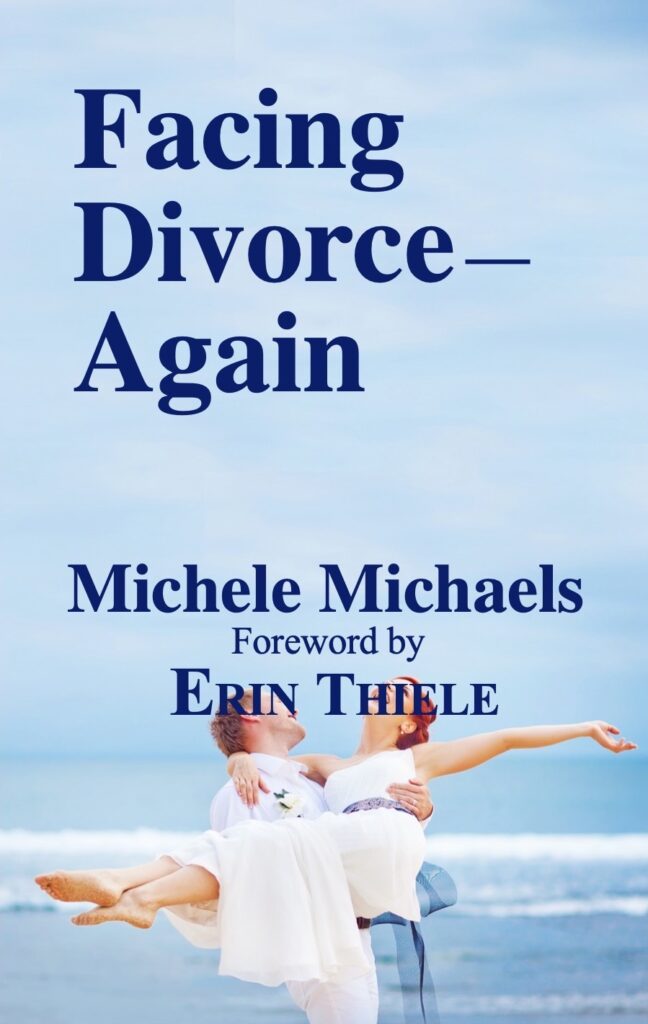 What followed was this amazing book Facing Divorce Again. This new and exciting book was written by Michele, the author of our Abundant Life books, which have taken this ministry by storm— changing the lives of countless brides around the world.
★★★★★ Arabella in Canada
Although I don't want a divorce and I do not want my sweet children to have a legacy of divorce. I know my sweet HH is for me not against me and does not want to hurt me but wants to heal me!
I am at such peace with it all.. and that is only due to FD course and book and it's amazing principles. I have read the book several times and almost done my journals.. I never imagined I could go through this at peace! Michelle's testimony has been incredibly encouraging - to see how much her union with her HH has brought excitement of what he will do next!
I believe my blessing is coming due to my JOY of giving over the documentation needed and even offering kind words. (As he knows I have let him go). Praise God as that is a journey.
I am trusting as I let him go and of any specific outcome my HH will is best!! What an adventure.
Thankyou!! I hope to support (encourage) many woman as they FD. My HH is amazing!!
These books, which we've made into a FREE course are for YOU—if you want the outcome to change. Come up higher than just Facing Divorce. After FD, move onto FDA or just go there first if you believe you are spiritually mature and ready to learn how to embrace adversity—enthusiastically and without fear.
★★★★★ Tiara in Poland
The principle of being agreeable is very powerful. I experienced this twice in regards to divorce. Firstly, when I finally let go, agreed, signed divorce papers, and sent it to my earthly husband with whom I didn't have any contact for months. He suddenly contacted me and said that the OW is moving out and it was a mistake. After a few weeks, we met to end things between us, as he said, but his heart was turned and we started meeting and having regular contact. He never filed and didn't mention divorce for more than 2 years.
However, although we had less regular but friendly and peaceful contact, he announced out of nowhere that he will file for divorce. When I quickly agreed and didn't ask any questions, praising the Lord in my heart because I was trusting He'll use it for good, my EH continued asking me questions about my life, complimenting me, and ended our conversation by asking me to go with him on a weekend gateway abroad to some country we've never been to yet! After the call, I realized it was our wedding anniversary. All I could do was laugh, I was joyful and there was praise on my lips. Not because I wanted to divorce myself, but because I had total confidence in my Heavenly Husband and trusted that He's in control. It's been a month since that conversation and I heard nothing about the divorce anymore. I don't know if it will go through this time, but in any case, I'm excited about what my HH has planned for me.
This time, my EH is actually helping me to find a flat and move back to the UK where we lived, something that I feel called to do. I wanted to do it a few times already but every time he was against me moving for him, rejected me, and said hurtful words when I mentioned it. When I confirmed I don't do it for him (because I'm doing it for my Husband and I finally surrendered my will in this area and understood I must please Him, not my EH), he agreed and I feel like he's actually encouraging me and he talked about plans for the future like me having registered self-employment in there or applying for citizenship as he also plans to do! Recently my EH also sent me a Christian song that he thought I might like, although he claims to be an unbeliever himself. I believe that my Beloved is working in his heart and I trust that He will complete what He has started for His glory, in His appointed time and in His perfect way. In the meantime, I'm enjoying my time being alone with Him and sowing hope that I found in the lives of others.
What you learn won't just be applied to the divorce you face now, but in countless other trials you'll face in your lifetime. Learn it now and enjoy the Abundant Life He longs for you to live!!
INSTRUCTIONS 
Be sure to first READ each Chapter from both books and then stop to ponder— letting the Lord speak to you. Ask Him questions, tell Him how you feel, ask Him what He wants to teach you and what He wants you to take away from reading the chapter. Then pour your heart into your JOURNAL—coming away with all He has for you—helping you experience Him and His Abundant Life to the fullest!
Dear Beloved Brother or Sister in Christ, 
Many people have written to our ministry when facing divorce. So many continue to call and write our ministry DESPERATE for help. To be ready to help the masses of people who come, often in a panic, I have compiled many of our resources together in this book. 
If you come to something you have read before, read it again. The more you "renew your mind" the more you will replace the lies of the world with the faith in your Lord. The more faith, the more the fear you are experiencing will fade away. And what will remain will be the "peace that passes ALL understanding"!
In addition, NEVER skip reading the Scripture verses, even if you do know them by heart. The verses will do something wonderful to your spirit. There is a "washing of water with the word" that will cleanse your mind, soul and spirit. It will put out the fire of fear. Begin by reading this: 
"By wisdom a house is built, And by understanding it is established 
And by knowledge the rooms are filled 
With all precious and pleasant riches." 
Proverbs 24:3-4 
Through this book, I believe, that you will gain the wisdom, understanding and knowledge you will need to do "the right thing" and release your attorney in order that God will fight for you. 
"Trust in the LORD with all your heart, 
And do not lean on your own understanding. 
In all your ways acknowledge Him, 
And He will make your paths straight." 
Proverbs 3:5-6 
The wisdom gained by reading this book, especially the Scripture verses, will help you to know "what" to do. The understanding comes after you have obeyed; the knowledge helps you with discernment knowing how to handle the next crisis and how to help guide others...
What to do When Facing Divorce:
Your Scriptural Litigation Guide
Chapter 1. Whose Trust IS the Lord 
Chapter 2. Your Wonderful Counselor
Chapter 3. Difficult QUESTIONS with Biblical ANSWERS
Chapter 4. Praise Reports & Restored Marriage Testimonies!
Chapter 5. New Testimonies of Restored Marriages After a Divorce!
Don't foolishly pray against or fight against your spouse who is pushing for divorce, instead be agreeable and trust if divorce isn't GOD's plan, He alone will stop it. If it IS His plan—for your protection—you will be agreeable "smiling at the future."
TESTIMONY and PROOF Trust God 
Hello,
I found your site 2 days ago, I am from Nigeria where polygamy is allowed. My FH married the OW impulsively after she got pregnant for him and we divorced. We are both born again Christians. My FH now believes he made a huge mistake by divorcing me and marrying the OW.
Now he want me back, but he's asking me to marry him with the OW woman. He said the other woman has not done anything to warrant him divorcing her, so he's advocating for polygamy which does not go well with me. I will rather remain single serving the Lord than to succumb to that option. Although my FH and i have a cordial and healthy relationship now and he cares for our 3 children and I financially and morally.
He believes i have a large heart to accommodate him, the OW and their child. Although I have forgiven him and the OW, in my opinion I believe it is wrong to remarry him with the OW even if God has given me a large heart to accommodate the situation. Please shed more light into it.
I gladly look forward to your response.
Hello,
We trust you have, indeed, spoken to the Lord, quite possibly before you wrote to us because we want to agree with you that what your former husband proposes is not God's plan for you. It's not our opinion or yours but God's only. What He says because only then can we feel secure in our decisions.
We are so thankful for His great compassion for you—because God allowed the divorce to go through means you are no longer married and therefore you are NOT to submit to your former husband but to your Heavenly Husband alone. If you were still married, then it would be entirely different and you would have had to submit and simply trust that God would intervene or surely bring you through. Thankfully this is not the case.
Only GOD can help you successfully navigate these uncharted waters He's called you to travel through. "When you pass through the waters, I will be with you; and through the rivers, they will not overflow you. When you walk through the fire, you will not be scorched, nor will the flame burn you." Isaiah 43:2 
After reading just this ONE testimony, we trust you would agree there could easily be many reasons to not get in the way, but be agreeable, if your spouse files for divorce or insists you file—Facing Divorce Enthusiastically and without Fear!