Welcome, Evangelist!
Esther 4:14—"And who knows whether you have not attained position for such a time as this?"
We are so excited to welcome you as a NEW Evangelist! This is one of the most IMPORTANT facets of being one of His followers!!
Mark 16: 15-16—"And I [Jesus] said to them, "Go into all the world and proclaim the gospel, the Good News, to the whole creation."
Matthew 28: 18-20—"And Jesus came and said to them, 'All authority in heaven and on earth has-been Given to me. Go and make disciples THEREFORE of all nations, teaching them to observe all that I have Commanded you.'"
So since you answered the Lord, we want to help you know where He is sending you!
Isaiah 6:8—Then I heard the voice of the Lord, saying, "Whom shall I send, and who will go for Us?" Then I said, "Here am I. Send me!"
Evangelize ONLINE!
GO to "Prayer Posting" Websites—
GO for Him to the women who are crying out for help, for prayer!
GO for Him to the Prayer Wall and search "marriage" where you'll find women (or men) who you can pray for and also share HopeAtLast.com. If someone has already come before you to offer HopeAtLast.com then confirm this is where you found hope. "Every fact is to be confirmed by the testimony of two or three witnesses." 2 Corinthians 13:1 Sign your name using your BNN.
Ask Him to lead you to other sites where He wants you to find those who need hope. Open a search engine, like Google, type in "prayer posting website" and watch as a full list of sites will show up—PAGES of sites in two columns!
And since women are asking for prayer, you will be their ANSWER to prayer when you SIMPLY copy and post something like this: 
HopeAtLast.com is where I found hope for my marriage…. I found hope and peace and so many testimonies of hopeless marriages restored after infidelity and betrayal. Don't give up or let it consume you. ~ Your BNN
STEP #1 Have a BNN
Why a BNN "Brand New Name"?
Using your BNN allows you to turn your focus from yourself, and onto others. So, as you GO, you'll want a BNN to post Prayer discreetly. Just as God changed Sarai to Sarah, Abram to Abraham, Simon to Peter, you too will be given a new name that will allow you to be transparent and real, without bringing shame to your family or attention on yourself. CLICK HERE to discover the BNN "Brand New Name" He has for you!
STEP #2 Have a BNN Gmail
NEW Gmail
For safety and discretion, we ask our Evangelist to create a new Gmail account.
Using your BNN and including RMI or RMIEW somewhere in your email address, along with your new BNN.
Example: BNN.RMIEW@gmail.com
STEP #3 BE CAREFUL
PLEASE Be Careful
2 Corinthians 2:11 The Voice, "It's my duty to make sure that the enemy does not win even a small victory over us, for we don't want to be naïve and then fall prey to his schemes."
There are women who are very angry and may not be open to wanting help. If you come across a posted prayer that clearly is written in anger, stop to speak to your HH about praying for them. As you do, consider praying that they will soon be broken (as you were) to be open to needing a Savior and His Love as a HH.
Ask Him to lead you to women who are broken, desperate and are interested in help—not a contentious woman who is posting prayer for the sake of venting their anger and shaming their husbands.
However, if this was where you were when you found RMIEW and you sense this is who He is calling you to minister to, then follow His lead. We'd encourage you to send them to the FREE RYM lesson Chapter 1 "My Beloved" and possibly on Day 8 of my journey Chapter 6 "Contentious Woman."
Dear Name, I once felt as you do now, until I became broken when (and draft briefly your testimony of how God broke you when you discovered the OW or whatever it is He used). God gave me hope when I read one of the FREE RYM lessons: Chapter 1 "My Beloved" but really opened my eyes when I read Day 8 of my journey Chapter 6 "Contentious Woman." I hope you will read these chapters and speak to God about it. I pray you won't let anger and bitterness consume you. ~ Your BNN
Be prepared to not become entangled—there will be many women, especially contentious women, who may write back wanting to talk more about their problems—often what their husbands are doing.
Hebrews 12:1, "Therefore, since we have so great a cloud of witnesses surrounding us, let us also lay aside every encumbrance, and the sin which so easily entangles us, and let us run with endurance the race that is set before us, fixing our eyes on Jesus, the author and perfecter of faith, who for the joy set before Him endured the cross, despising the shame, and has sat down at the right hand of the throne of God."
Reading these two lessons will be very helpful:
A Wise Woman Chapter 13 "The Ministry of Reconciliation" 
A Wise Woman Chapter 17 "Women, Encourage the Younger Women" 
Just encourage them to go to HopeAtLast.com and to fill out a Marriage Evaluation Form at the bottom, and she'll get all the necessary resources for FREE just as you did.
Just be careful and watch out—if you get pulled into a discussion, you may not give them what they "want" to hear and often it could turn into a form of counseling where they will therefore never meet the Mighty Counselor.
By simply introducing women to His truth, His love and His answers they will meet Him—so please say no more than what we've left you to post:
MarriageHelpOnline.com is where I found hope for my marriage…. I found hope and peace and read so many encouraging testimonies of hopeless marriages restored after infidelity and betrayal. Don't give up or let it consume you! ~ Your BNN "Brand New Name"
If you don't have your BNN "Brand New Name" please CLICK HERE to discover the BNN "Brand New Name" He has for you, which is what you will want to use when submitting a Praise Reports and Evangelizing Hope Online.
And then if anyone asks for more, simply copy and paste something like this:
I'm so glad you asked, on HopeAtLast.com they offer a FREE Marriage Evaluation that will help answer your question and also gives you free eBooks and eVideos to watch… if you'd like I can send you Chapter 1 of the book that will give you so much hope! ~ Your BNN
Unfortunately, most women who fill out the Marriage Evaluation just want to vent their anger or talk about their problems but never discover anything that will really help them. So again, be sure to send them to HopeAtLast.com so they can fill out a Marriage Evaluation Form to be given the  Free resources (simply copy and paste the statement above).
We also want you to be careful how much you READ in each post. Sadly some women share things that should never be shared with anyone, so just skim over the posts, and ask the Lord to lead you to whom He wants to reach out and help. If you read only far enough to see they need Marriage Help and then stop reading then post your reply, you'll protect your mind and heart from details that can interfere with your own restoration.
* Also should you read a post from a man, both the webpages (MarriageHelpOnline.com and HopeAtLast.com) have help for men too.
** When you do see a post from a man, be extra careful that you do NOT post your name and that the site does NOT include your email address. "Be of sober [clear thinking] spirit, be on the alert. Your adversary, the devil, prowls around like a roaring lion, seeking someone to devour." 1 Peter 5:8.
Evangelize in Your Community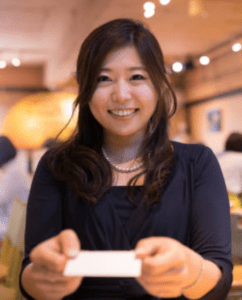 Hope Cards
If you prefer or feel led to Evangelize in your community, one of the best ways is to simply have a Hope Card to hand to them.
CLICK HERE to order or print Hope Cards.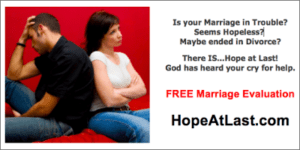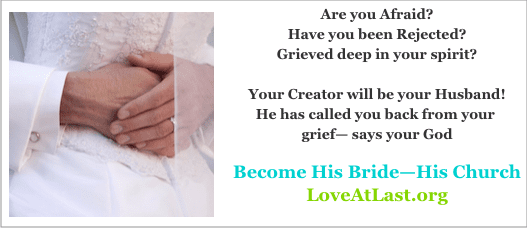 Show Hope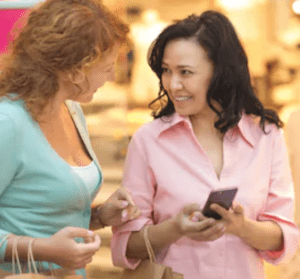 Now using your cell phone—He's shown us an easier way.
When you hear someone speaking about marriage crisis, or what He's brought you through, just say, "Here, I know something that could help" and then open your phone to show them HopeAtLast.com that you've bookmarked. Better yet, create an app (scroll down to the bottom of the page to see how).
Then, ask them to open their phone and search so you know they have it.
And, if your ministry is geared more towards Finding Love At Last, do the same thing but with LoveAtLast.ORG instead.
Question and Answers
If you run into someone who tries to argue or dispute anything, remember to remain silent.
Proverbs 26:20—"For lack of wood the fire goes out, and where there is no whisperer, contention quiets down."
Matthew 10: 14 NASB—"Whoever does not receive you, nor heed your words, as you go out of that house or city, shake the dust off your feet."
Simply say nothing, just walk away just as Jesus explains in Matthew 10:14 by going to a new Prayer Site.
Matthew 11:30—"For My yoke is easy, and My burden is light."  
2 Timothy 2:14 GW—"Remind believers about these things, and warn them in the sight of God not to quarrel over words. Quarreling doesn't do any good but only destroys those who are listening."
If you still have questions, write to our RRR@rmiew.com and one of our Ministry Team Members will SG "Seek God" with you for His answer.
James 1:5–8—"But if any of you lacks wisdom, let him ask of God, who gives to all men generously and without reproach, and it will be given to him. But he must ask in faith without any doubting, for the one who doubts is like the surf of the sea, driven and tossed by the wind. For that man ought not to expect that he will receive anything from the Lord, being a doubleminded man, unstable in all his ways."