Welcome! 🙏🏼 Let's Pray 🙏🏼
There are two prayer lists below. Each requires the same 🔐 password that you will receive in your first newsletter. Please check your confirmation email for the password.
We encourage you to bookmark this page and come in to pray each time He lays it on your heart. We thank you for your heart 💝 and hope you will soon read the praise in our Encourager submitted from the very women you pray for today.

"Again I say to you, that if two of you agree on earth about anything that they may ask, it shall be done for them by My Father Who is in heaven. For where two or three have gathered together in My name, I am there in their midst." Matthew 18:19-20
"Take this most seriously: A yes on earth is yes in heaven; a no on earth is no in heaven. What you say to one another is eternal. I mean this. When two of you get together on anything at all on earth and make a prayer of it, my Father in heaven goes into action. And when two or three of you are together because of me, you can be sure that I'll be there." Matthew 18:19-20 MSG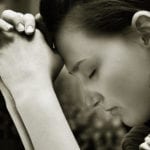 Prayer Requests
"Is anyone among you suffering? Then he must pray. Is anyone cheerful? He is to sing praises. Is anyone among you sick? Then he must call for the elders of the church and they are to pray over him, anointing him with oil in the name of the Lord; and the prayer offered in faith will restore the one who is sick, and the Lord will raise him up, and if he has committed sins, they will be forgiven him." James 5:13-15 
---

PRAYING His Word
Here is a sample prayer (simply copied from RYM Chapter 1) that also encouraging them to follow HIM:
"Dear Lord, please guide this special sister during the trouble in her marriage. And her ears shall hear a word behind her saying, this is the way, walk here, when she turns to her right and when she turns to her left (see Isa. 30:21).
"Please reassure her when she sees a thousand fall on her right side and ten thousand at her left; help her to know that if she follows You, it will not happen to her (see Ps. 91:7). Hide her under your protective wings.
"Help her to find the narrow path that will lead her to life, the abundant life you have for her and for her family. Lord, I pray for a testimony that you can use for Your glory when this troubled or broken marriage is healed and restored! We will give You all the honor and the glory. Amen."
PRAYING in Humility
Never demand that God do anything, please remain humble. Only the enemy demands things from God:
"Simon, Simon, behold, Satan has demanded permission to sift you like wheat . . ." (Luke 22:31).
What's most important is to allow the Lord to lead you to know HOW to pray: Remain Humble, ASK GOD, Listen, and let Him lead you! We simply want GOD'S will for their lives that is far above what we could even imagine, but is not always what we want or have planned.
"I, therefore, the prisoner of the Lord, entreat you to walk in a manner worthy of the calling with which you have been called, with all HUMILITY and gentleness, with patience, showing forbearance to one another in love, being diligent to preserve the unity of the Spirit in the bond of peace." Ephesians 4:1-3.
"But if any of you lacks wisdom, let him ASK of GOD, who gives to all men generously and without reproach, and it will be given to him." James 1:5.
"Your ears will HEAR a word behind you, saying, 'This is the way, walk in it,' whenever you turn to the right or to the left." Isaiah 30:21
"The Lord is my Shepherd, I shall not want. He makes me lie down in green pastures; HE LEADS ME beside quiet waters. He restores my soul." Psalm 23: 1-3
"God can do anything, you know—far more than you could ever imagine or guess or request in your wildest dreams!" Ephesians 3:20 MSG
"'For My thoughts are not your thoughts, nor are your ways My ways,' declares the LORD. 'For as the heavens are higher than the earth, so are My ways higher than your ways and My thoughts than your thoughts.'" Isaiah 55:8-9
On Behalf of ever woman who has asked for prayer and from our entire Ministry Team, including our amazing Translators, we THANK YOU!
I hope you can feel our virtual 🤗 hug!!