HopeAtLast.COM • LoveAtLast.ORG • HomeGrownMinistries.COM
*Adina Jacobs in South Africa 
 and Isabella Peterson in Costa Rica 

manage these three Licensed Ministry Franchises from
RestoreMinistriesInternational.com
Give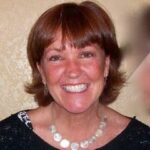 Erin Thiele
"First, I am the mother of seven children, plus six more children (as they married one of my sons or daughters), and Mimi to ten grandchildren thus far.
"Yet I'm best known as a minister and founder of RMI.
"You intended to harm me, but God intended it for good to accomplish what is now being done, the saving of many lives." Genesis 50:20
"Restore Ministries International was actually birthed at a restaurant in Pensacola, Florida, in 1990 when two women, both abandoned by their husbands, met for the first time. One of the women was me, Erin Thiele, as shown in my pictures. As His promise says, what the enemy meant for evil, God meant for good... to save many people alive.
"That evening was the first glimpse of HOPE for me and for thousands of women (and men) I had never met before. It was the beginning of a journey that I did not choose— but like most of you—a journey that was chosen for me. God chose me, and I believe, called me from my mother's womb to minister "for such a time as this," but it was in the valley of the shadow of death where I really heard and answered that call."
Today, I train Marriage Ministers rather than personally ministering myself. Years ago, I was the American Red Cross Orange County's Water Safety Instructor's Instructor—now I suppose I am RMI's Marriage Minister's Minister and Instructor.