Behold, the former things have come to pass,
Now I declare new things;
Before they spring forth I proclaim them to you.
—Isaiah 42:8–9
"I am the LORD, and there is no other, the One forming light and creating darkness, causing well-being and creating calamity; I am the LORD who does all these" (Is. 45:6–7).
"You will not be put to shame or humiliated to all eternity" (Is. 45:17).
It was after my husband got back from a trip, that he told me, to my utter surprise, that he was on his way to an appointment with an attorney for a divorce. He said that he still loved me, but he wanted to find someone who was more compatible with him. (Later it was revealed that he already had a woman, his girlfriend from high school that he was seeing and had planned, or hoped, to marry.)
However, God told me many months earlier that my husband was "not going to be here" (as I said earlier). I had no idea that he had made a decision to leave, and certainly not that he was secretly involved with someone!
It happened in January, before I let go of my church, during a Wednesday prayer meeting. Our pastor told us that the Lord wanted to speak to us about what He had for us that year, and I was excited to find out! So I bowed my head, and the Lord began to speak to me. He told me that 2005 would be the hardest year of my life, but that in 2006, every promise He had given me would come to pass. Yes, I shook a bit, and cried a lot that night. But, when we were asked to stand up and sing, the Lord told me to sing and praise Him as if 2006 and all those promises had been fulfilled—I did, and joy overflowed from my heart.
However, while I waited for "what was coming," I had all kinds of "vain imaginations" of what "it" might be. I began thinking that my husband might be killed (since I had been called to minister with so many widows all of a sudden), and then that it might mean that he was going to be incarcerated (since RMI began having a lot of members whose husbands were going to jail). Then, a few weeks before "it" hit, the Lord awakened me in the middle of the night. He told me that all these thoughts were just "vain imaginations" and that I needed to "take my thoughts captive."
When "it" did come, I knew I needed to contact the ministry to let everyone know of the turn of events in my marriage since I had a restored marriage and was a RMI minister. Thankfully everyone was more than supportive when shared it with them and encouraged me that He would use it for everyone's good!
Those who had difficulty with what had happened were mostly concerned with what it meant in their own life and marriage. Some women, understandably, thought that it must have meant that somehow I had failed as a wife or my husband would not have chosen to leave. I knew that I could not and should not defend myself, and left it to the Lord to do it for me.
Later many of those who accused me contacted me when the Lord reminded them of Job's friends who were sure that his trials were due to sin in his life.
Initially, when my husband told my children and his family, he placed all the blame on me for the failed marriage and for his having to divorce me. Rumors then began to run rampant in my church where we were both leaders. Again, I remained quiet and trusted the Lord for my reputation. God showed up, as He usually does, in the midst of a huge crisis, when our senior pastor came against me (and threatened to shut down my ministry to women within his church). It left me in tears when my husband unexpectedly came in…the result?
My husband got on the phone with our pastor and defended me!! He said that everything was "his fault," that I had been "the perfect wife," and he (my pastor) should know what kind of a person I was!!! Yes, this is God when we choose not to defend ourselves. After that day my husband never changed what he said— defending me and held to the fact that I was a perfect wife, the best, and that the divorce was his doing alone.
Working Together for Good
It is an awesome place to be when we watch the Lord at work in our lives. Honestly, I can say that this time I am excited to go through it again, because this time I am not just going to make the "best of it"—I am going to enjoy every moment I have alone with the Lord, as my Husband and my children's Father!
The first time I faced divorce, I really didn't know what my future was, so fear made my time alone with Him bittersweet. This time I pressed past the fear and chose to enjoy each day as a special gift from the Lord.
My children and I have faired so wonderfully well because we look for the "good" in everything! And we have seen that everything is really better than when I was married and the children had a father at home. No, this doesn't mean we would have chosen this path, or that the children didn't miss their father. It just means that it's true that God causes all things to work together for good as He promises in Romans 8:28.
My children have all gotten closer to the Lord, to each other, and especially closer to me. My joy has helped them adjust to their new life that had the potential of destroying them—but instead, it has made them better children and young adults.
Are You Being Called to Ministry?
There are many reasons this has all happened to you and to me. But one thing I believe, I believe that quite possibly God is calling all of us (you, me, my children and RMI) to bigger things, too big for us in our present state. So He has seen fit to bring all of us through the refining fire to purify our hearts—it's the same with you, isn't it?
Haven't you noticed the change in your heart, in your life and in your attitude? Divorce or adultery committed against us are the situations that make us and mold us, giving us a new focus on life, a much-needed change in our attitude, and as a result, a brand new beginning.
One area I needed to be set free from was concern about my reputation—I can happily say, by the grace of God and through much refining, I am finally where I had hoped to be. It has taken many scandals, lies, and rumors, but God was determined that I should never allow people's opinions (good or bad) to affect me or affect the decisions I make.
If you believe the Lord wants to use you in ministry, it will take going through some type of refining in order that you never fail to obey God "no matter what" and that you are not going to allow the praise or flattery from people to cause you to fall because they have invested in your pride—which begins by allowing criticism to no longer affect you. If you don't look to the Lord and His opinion, flatter or criticism will always to sway your decision and stop you from doing what God calls you to do.
Don't be shocked or even the least bit surprised when rumors or even lies are spread about you—it is all part of the fires needed to be ready for the Lord's use.
"Now in a large house there are not only gold and silver vessels, but also vessels of wood and of earthenware, and some to honor and some to dishonor. Therefore, if anyone cleanses himself from these things, he will be a vessel for honor, sanctified, useful to the Master, prepared for every good work" (2 Tim. 2:20–21).
"No temptation has overtaken you but such as is common to man; and God is faithful, who will not allow you to be tempted beyond what you are able, but with the temptation will provide the way of escape also, so that you will be able to endure it" (1 Cor. 10:13).
"All discipline for the moment seems not to be joyful, but sorrowful; yet to those who have been trained by it, afterwards it yields the peaceful fruit of righteousness" (Heb. 12:11).
We all need to be set free from caring anything at all if we want to travel along our Restoration Journey. This includes lugging the burden of caring about what others think of us, good or bad. If we are going to be used by the Lord and help advance God's kingdom in any big way, we must be willing to carry our cross (whether our cross is in our marriage, our reputation, or in any other crisis God brings into our lives). We must remember that the cross was not only painful—it was also humiliating. It says in Hebrews 12:2 that Jesus "despised the shame" but He still allowed people to mock Him, and He still hung naked on a cross. Can any of us do less when that is what He did to set us free?
". . . fixing our eyes on Jesus, the author and perfecter of faith, who for the joy set before Him endured the cross, despising the shame, and has sat down at the right hand of the throne of God" (Heb. 12:2).
We Need the Right Man in Our Lives
There is no doubt that the Lord longs to be gracious to us, and that He will cause all things to work together for good. Many feel it is unfair when they have not chosen divorce, since it was their spouse who made the choice. Why do they have to both struggle and work toward restoration or at least, why shouldn't they be free to remarry? Having been in both groups, I can say that what men and women are looking for is to be happy and secure, and they believe, as I did, that this means being married to someone.
Please understand that I am not a feminist in any sense of the word, however, I can tell you that if we are honest, we have to admit that having a man in our life has never brought the happiness that we dreamed it would and what we have been searching for all of our lives. I am sure this is also true for you men who are reading this: marriage has just never brought about the happiness that we thought it would.
The truth is that just about everyone we know who is currently in a marriage or relationship has been left "wanting." Women, marriage will never fulfill our longing for true love or meet the needs that women have regarding security and being cherished. Only a deep and intimate relationship with the Lord, as our Husband, we being His bride, will meet our deepest needs and longings until our hearts overflow. And once this need in us is met, then we are no longer vulnerable to the pitfalls of our neediness, which plagues even young girls in our society today. It is our responsibility as older women to break free from this vicious cycle, which is advanced by our attitude and actions when we pursue any man. 
Men, the needs that you have will never be met by a woman or any other thing you find in the world.
God has shown me there is more peace, joy, and fulfillment that can be yours (and mine), not just when you have a spouse, or when you are restored, but right now, because of who God is and who the LORD wants to be to you in your life.
Most of the men and women in our ministry or who read our books are looking for someone to relieve their pain and to find joy in a relationship with someone—when joy and fulfillment is right there within everyone's reach! When my husband left me the first time, I honestly believed that only restoration (when my husband came home) would remove the pain and when I would finally be able to be happy again. However, though the pain, due to fear, was relieved once he came home, it was replaced by the same pain and emptiness that most people experience in their marriage.
Truthfully, I felt guilty for feeling this way since God had answered my prayers, and had given me the desires of my heart by restoring my marriage. Certainly I should be grateful or at least content once my marriage was restored. But what I found was that I was continually drawn to thinking about the two years when my husband was gone as the happiest of my life (even though they were filled with fear, doubt, and shame)—because of the intimacy I had with the Lord and the feeling of love He had for me.
Intimacy with the Lord is Key
What each woman must do, married or not, is to find her happiness not in herself (as the world or feminist have tried to convince her), not in a man, but in deep intimacy with the Lord that does not come from attending church, but in time spent alone with the Lord.
What each man must do, married or not, is to find his happiness not in himself or the things of this world, or in another woman, but in deep intimacy with the Lord that does not come from attending church, but in time spent alone with the Lord.
"Many will say to Me on that day, 'Lord, Lord, did we not prophesy in Your name, and in Your name cast out demons, and in Your name perform many miracles?' And then I will declare to them, 'I never knew you; depart from Me, you who practice lawlessness'" (Matt. 7:22–23).
Many times, I have tried to relate these feelings to men and women who are earnestly seeking restoration, but they still believe that if they were to seek the Lord as I have sought Him, it would result in them also being forever single. Not so!
God has a plan for each of our lives, and when we let go of what we want, what we have tried so hard to make happen—then God can take over and give us the abundant life—the life we were created to live. It is living His abundant life where we will find true joy and the fulfillment that every human being is looking for. For me it is to live my life as His bride and to share my life as His bride with women around the world ministering through RMI. For you, the Lord also has a unique and special plan that will thrill your heart and bless you beyond what you could ever have imagined.
"Things which eye has not seen and ear had not heard, and which have not entered the heart of man, all that God has prepared for those who love Him" (1 Cor. 2:9).
Finding this intimacy and this abundant life began for me when I started to tell the Lord that He is all I needed and wanted as I said in an earlier chapter. When I first began saying this to Him, I only thought it in my head, but very soon I felt it beginning to fill my heart. Restoration can bring God glory, and certainly the husband/wife relationship is something that is the foundation of our society. However, as a believer, we have to reconcile to the fact that it is our relationship with the Lord that must be paramount in our lives if we are a true believer and not just another religious individual.
The apostle Paul agreed with the principle of the wonderful "opportunity" of remaining single or unmarried when he wrote in First Corinthians 7:32–40:
"But I want you to be free from concern . . . The woman who is unmarried, and the virgin, is concerned about the things of the Lord, that she may be holy both in body and spirit; but one who is married is concerned about the things of the world, how she may please her husband.
This I say for your own benefit; not to put a restraint upon you, but to promote what is appropriate and to secure undistracted devotion to the Lord.
A wife is bound as long as her husband lives; but if her husband is dead, she is free to be married to whom she wishes, only in the Lord. But in my opinion she is happier if she remains as she is; and I think that I also have the Spirit of God."
Nevertheless, what is most important is His plan, His will for our lives. It might be that His plan for you is to have a restored marriage, even for a time, as He had for me. Never fear His plan because only HIS plan will result in the happiness that has evaded you.
This RESTORED marriage testimony will help you understand that once you let go, become His bride, that He may choose to restore you too. So be sure you pray for His will, not what you want or what you are afraid may happen if your husband begins to allure you.
"God Brought us Full Circle"
As I was sitting in church recently with my husband and children, listening to the preacher, God reminded me that we were in this same place two years prior, but with a broken marriage. God truly has brought everything full circle. As the preacher continued his sermon, I remembered being at the very same altar two years ago asking the Lord to please give me peace and to show me what I needed to do. I had no idea that everything that would transpire afterward would be for my own good—for I was nowhere near the kind of Godly woman that the Lord needed me to be.
I was not serving the Lord the way I was supposed to be serving Him. I was neither hot nor cold, but lukewarm. I was comfortable going to church and trusting God for things. However, I was not on fire for Him. I did not take pleasure in nurturing the ministry the Lord gave me (my family) through cooking, cleaning, and other household duties. I did not allow my husband to be the leader of our family. I did not listen nor respect him. I was clean on the outside, but filthy on the inside, and I didn't even know it. I was gradually tearing my house down until my life and marriage ended up going down into sinking sand.
While deep in the sand, I humbled myself and prayed to the Lord and repented of my sins. I asked the Lord to make me a better wife to my husband. In my cries to the Lord, He had one of my friends send me the link to How God Can and Will Restore Your Marriage, and my eyes began opening wide to the kind of woman I truly was and how I needed to be. I was disobedient to God's Word -- rebellious, contentious, and a Pharisee. Though I asked my husband to forgive me, he already decided that he wanted a divorce and planned to move out of the house as soon as he could. Yet, I knew God would restore my marriage, despite how things appeared, and continued to hold on to His promises. Although I wanted my husband to stop his thoughts and actions of divorce and turn his heart back to me, I began praying and seeking for God's will in my life.
As I trusted God more and more for His will to be done, He provided me with a complete makeover. He took away the victim coat and showed me that I was actually the perpetrator: I was contentious, hateful, bitter, unforgiving, deceitful and loud. I hated being home. The Lord had a lot of work to do within me. It was painful to look in the mirror and see that I wasn't the person I thought I was, not the person others thought I was. Chaste and respectful, one of the lessons I studied while reading A Wise Woman, I was not. The Lord was gracious enough to show me that I hadn't embodied any of these Godly qualities, and was a harlot in every sense of the word. The Lord removed all of my ugly, worldly traits layer by layer, and replaced them with fruits of the spirit; love, joy, peace, forbearance, kindness, goodness, faithfulness, gentleness and self-control.
All of the biblical principles discussed in the RMI resources I didn't know to begin with, so I had to re-study them multiple times to sink in. The tests that I underwent after learning and studying of His Word were much harder and painful than the ones from my school days, but they are also more rewarding. I struggled with several things -  learning not repaying evil for evil, keeping my mouth shut, and not defending myself.  Though difficult, the best part is that the Lord was always with me. He saved me from the fire, and although He may not have always spoken to me in the midst of my testing and trials, He never left me. These tests stretched my faith (especially when I couldn't hear Him) and gave me the endurance that I needed to finish this part of my race.
The most difficult obstacle for me to overcome was fear. The Lord addresses fear many times in His Word. In Isaiah 40:10 NIV, it says "So do not fear, for I am with you; do not be dismayed, for I am your God. I will strengthen you and help you; I will uphold you with my righteous right hand."  I clung to my fears - fear of rejection, fear of being hurt again. After the Lord allowed the divorce to go through and He began bringing the wall down between me and my husband and began bringing my husband around, my fear still grew within me and I pushed my former husband away. I pushed him away a few times before the Lord showed me what was happening. He revealed to me that my restoration journey was almost a year longer than it should had because I kept intervening, leaning on my own understanding rather than His. God was putting things back together again, but I was pushing them apart. God was bringing my husband around and allowing my husband to allure me, but I was pushing him away. Once I realized it, I asked the Lord to help me conquer my fear and restore my marriage if it truly was His will.
In His will for my journey, I ended up going through the seasons with the Lord as my Husband twice, due to my fears. The second time around, I learned to relate to every situation and everyone on a different level than before. Each season gave me a deeper appreciation for the Lord as my Husband. While I was going through the seasons with my Love, I was also going through the season with my then former husband. I was and am so in love with the Lord that I had let everything go, but He kept telling me that a life of singleness (as defined by the world) was not His will for me and my children.
The turning point in my journey came about when my former husband continued alluring me, and this time I knew what it was - God's will. We were in Canaan Valley, ironically, when the Lord told me that despite my mistakes and fears that He was going to restore my marriage. Wow! There were hints hidden in different things the Lord was showing me. After the Lord's revelation to me, my former husband and I talked even more, but all appeared to stay the same. Then my friend passed away. I was devastated! I watched his marriage get restored not even a month before he died. During this time, my former husband was there to comfort me and my daughter. The Lord used this sorrowful time in my life to bring us even closer together and make our relationship new.
The thought of remarriage to my former husband never crossed my mind. I was happy with the Lord as my Husband and very content living the way that we were. However, the Lord had other plans. My husband decided that he wanted us to get remarried as soon as possible and then the Lord took over from there. This was one of my biggest tests in my journey - overcoming my fears of remarriage and trusting in the Lord. The morning of our wedding ceremony, I was so overcome with fear that when the judge commented about never marrying a bride with cold feet, I nearly passed out. I was praying to the Lord during the entire ceremony to help me conquer my fear and keep obedient to His will; I wanted to run. He reminded me of 1 John 4:18 (NASB) which says that "there is no fear in love, but perfect love casts out fear because fear involves punishment, and the one who fears is not perfected in love." The Lord helped me through the entire ceremony which lasted two minutes, but seemed like an eternity.
There have been a whirlwind of changes that the Lord has made in me. Changes that I could not have made on my own. God has been using me to help others in their Restoration Journeys from the very beginning of mine. I always enjoyed helping others in their time of need, which is why I am a volunteer firefighter, and helping others with their journey, is an extension and a new part of serving others through and for the Lord.  I also love being home and serving my family now. I am learning so many things about being home, cooking and cleaning. I am still getting brave enough to learn how to quilt, sew, and crochet, as I love to learn. Although I am a work in progress, I am content with being at home and taking care of my first mission field, my family. This is something I always wanted to do, but didn't know how until I was led to this ministry.
Now I am starting a new part of this journey with new tests and trials. I am so glad that I had RMI and all of their resources to help me be ready for this part of the journey. I know that this is a lifelong journey and the thing that I want everyone to know is that I love the Lord with all my heart.
I recommend every resource RMI has to offer. They are filled with the truth that every woman coming to this ministry needs. I read all of them at least twice, and keep them for future reference. I also suggest writing out the Bible verses that speak to your heart on 3X5 cards. The resources are so wonderful and give you the raw truth while you are broken to help you build a relationship with the Lord as your Husband.
When I found RMI, I was broken and looking for the truth. I found this ministry just when I needed it, which confirms that the Lord's timing is perfect. I couldn't take the RMI courses right away so I reread what I did have from the ministry, and then moved on to other books like Workers@Home about keeping up with my home -- another part of His plan.
During this journey, which will last for a lifetime, I found something I never had before, a real relationship with the Lord. When He took me as His bride, my life completely changed. Things that used to matter to me no longer mattered. I wanted and want to live to please Him, and do the things He called me to do.
Honestly, I would not change a single minute of the time I spent getting to know my new Husband. It was time that I needed with Him. He is still my everything and now that I obey Him and have a restored marriage as a result. He has been blessing me so much that I cannot even begin to tell you in just a testimony or praise report.  He has given me back everything that I lost over the past two years ago—and so much more. Everything that I allowed the enemy to steal from me since I never tithed and was ignorant to the truth.  
I hope that each of you all find Him in a deeper more intimate way, a relationship with Him is worth every tear, heartache, and loss that you will endure.
God's plan is to bring everything full circle as we follow Him along our Restoration Journey.
~Chasity in West Virginia
If I'm not Restored,
is Remarrying Someone New an Option?
No matter what your pastor or Christian counselor tells you the Bible does not say anywhere that you are free to remarry again. Though God will hold them accountable, you and your children (and grandchildren) will be the ones who will suffer the consequences of your decision to remarry and have to live with a stepparent.
"Whoever then annuls one of the least of these commandments, and so teaches others, shall be called least in the kingdom of heaven; but whoever keeps and teaches them, he shall be called great in the kingdom of heaven. For I say to you, that unless your righteousness surpasses that of the scribes and Pharisees, you shall not enter the kingdom of heaven" (Matt. 5:19-20).
The Bible is clear when you read it that remarriage is not an option, but is clearly putting us in the position of being an adulterer or an adulteress.
"So then if, while her husband is living, she is joined to another man, she shall be called an adulteress; but if her husband dies, she is free from the law, so that she is not an adulteress, though she is joined to another man" (Rom. 7:3).
"A wife is bound as long as her husband lives; but if her husband is dead, she is free to be married to whom she wishes, only in the Lord. But in my opinion she is happier if she remains as she is; and I think that I also have the Spirit of God" (1 Cor. 7: 39–40).
My desire to remain unmarried was for many reasons, but ultimately remarriage is not a choice since the Bible (not me, but God says) that remarriage leads to becoming an adulteress. Though society and even people in the church will tell you that remarriage is okay in certain circumstances (yours being one of them), it is not the true. Just read the verses. No one needs to interpret what it says. A child can understand it.
"For the time will come when they will not endure sound doctrine; but wanting to have their ears tickled, they will accumulate for themselves teachers in accordance to their own desires; and will turn away their ears from the Truth, and will turn aside to myths" (2 Tim 4:2-3).
And as I said earlier, if marriage restoration is His plan for your life, then the principle of letting go, especially when it is done "enthusiastically," and pursuing God has proven to be the most powerful principle in the restoration process. The more you put the Lord in first place in our life and in your pursuits, the greater the power and the glory in your life which is magnetic!!
As I said, the more I let go and even went as far to encourage my husband, the more he wanted ME! I was just going the extra mile and it worked in my favor. Soon the woman he was pursuing initially no longer appeared attractive, I did.
And when you have the Lord as your focus, dear reader, it brings about a surrendered heart that results in instant and consistent joy! And because of my joy, my husband didn't want to leave as the OW dragged him away, and also my children are also did just as well—grace began flowing like a river in our home and it never stopped!! Though divorce is known to destroy children and families, destruction is not necessary. Once the Lord is truly your Husband, then He, too, will become the Father for your children, which will result in peace and protection that all women long to have for their family.
And as a man, you will find that having God as the head of your home, there will be peace there where there once was turmoil.
How Will Divorce Affect My Children?
One of the first things I learned is that the way you feel about what is happening to you and your family is the key to how well your children will feel. Since this time I had joy (instead of fear, worry, and pain), my children also had joy. Since I continued to show respect for their father, they continued showing me (and their father) the same respect.
Honestly, the way my younger children handled the divorce (and even the exposure to the other woman whom he married) has been the biggest revelation. Mothers, you alone hold the key to your children's heart. Do you really want to cause it to break? It is in the way you act and respond to this difficult situation that will help your children either go through this change effortlessly and almost painlessly, or struggle through it—allowing it to destroy them!
Though my older children (when they were about the same age) were not told about what their father did the first time he left and divorced me (because I did my best to hide everything from them), later, when they grew up, they said that they had no clue what was going on at all, but there was a spirit of fear was in the air, and that is why we all struggled back then to get through it.
Fast-forward to this second time around when I discovered that the principles for Facing Divorce can be so powerful, doing it enthusiastically and without fear, that I was determined that my children and I would prosper from what was happening to us, not simply endure it!!
For example, these principles work so well that the first time my husband went to the attorney, I was able to respond to his requests with such agreement and enthusiasm (that are outlined in this book) that he changed his mind within a day, and told me how wonderful I was, apologizing profusely for hurting me, and told me that he wanted to work things out and stay! I know you read that once before, but let this sink in! Have you ever heard of this happening with anyone else? And it is not because of me, but because His principles were designed to work this way!
This proves, too, that you cannot make your own testimony. If God has a plan for your life that includes a divorce going through, then you cannot stop it by applying these principles, or by praying longer or harder. This time my husband announced the divorce (when I enthusiastically applied the principles, he changed his mind a day later). But RMI had powerful intercessors (in Geneva, Switzerland) that were crying out to God to stop my husband from going to the attorney I didn't tell them to pray that way). Their prayers worked, and it was stopped (along with how I responded). However, it didn't take long to realize that the divorce, the scandal, and even the OW were all a part of God's plan for my life.
Is divorce part of God's plan for your life?
When Jesus was facing the cross, He was able to pray, "Father, not my will, but Your will be done." How about you? Are you able to trust God enough to go through anything in order to be used by Him for a greater glory?
Where would we be if Jesus had refused His cross? Where would we all be had Erin not chosen to go through her husband's adultery and trust God to restore her marriage? Where will you, your children, or other men/women be (the ones your live might have helped) if you refuse to take this walk of faith?
God won't force anyone to enter the narrow gate. Though that well-traveled wide road to destruction looks easy, its end is much more pain and ongoing turmoil. Take a look around.
It is my prayer that you instead choose the narrow gate that is not all that hard when we hold His hand— Trust me, I know.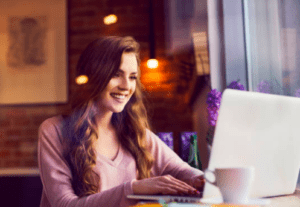 If you are ready to make a commitment to GOD to finish the course, by CLICKING on your JOURNAL you've agreed, and are ready to document this next step along your Restoration Journey in your "My Daily Journal" form. Take your time, sit down, grab your coffee or tea, and pour your heart into your Journal. 
As an "Older women likewise…teaching what is good, that they may ENCOURAGE the young women…" (Titus 2:3) you will have the opportunity to speak to the younger women who are still single as part of your ministry.