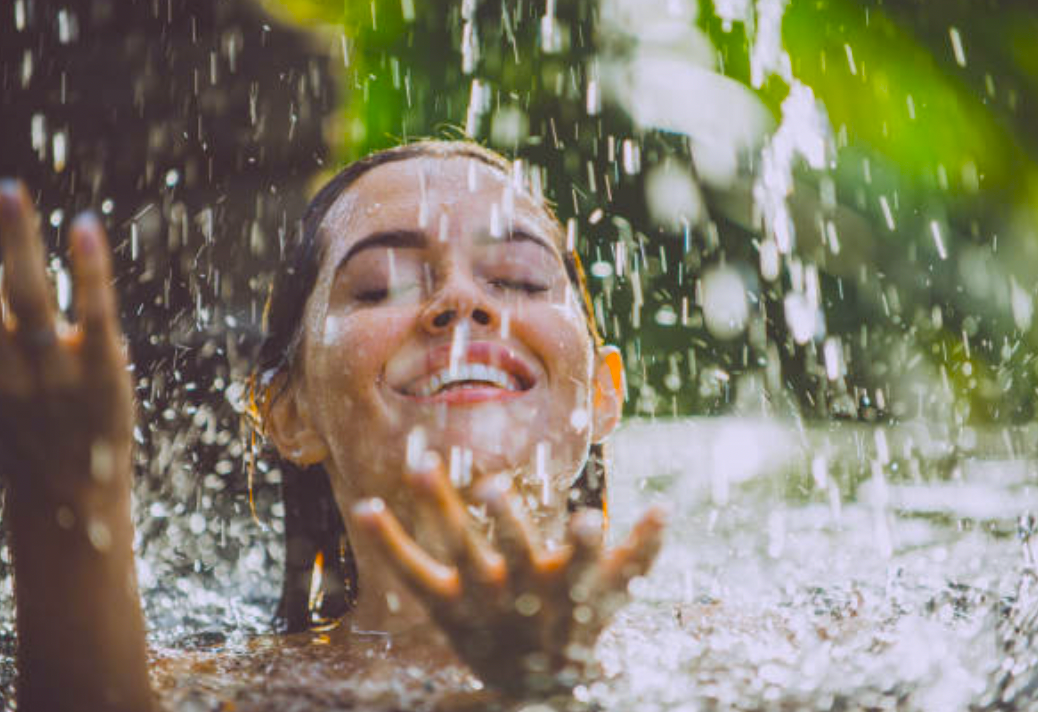 ★★★★★ "Daughter Dying, Drugs, Guns, Abuse—Testimony!"
About five years ago, I was walking from my bathroom to my bedroom when suddenly I was overtaken by a 'knowing' that my daughter was on the verge of dying. The Lord asked me what I would choose. I felt extremely humbled and told Him that He should choose because I didn't know what was best for her and her condition.
My daughter had been bound by addiction for over 10 years. She was not in our home. I told Him I just couldn't take seeing (or hearing about) her this way anymore. He was kind enough to turn my heart "The Lord turns the heart wherever He wishes . . ." (Prov. 21:1) so that I wanted no contact with her so I could actually survive the ordeal.
Having Him choose for me started about five years ago, when I was out gardening at our last house, my EH approached me and challenged me to choose him or her after what had happened the previous week. We'd been woken up to someone in my daughter's bedroom with a gun. So when my EH asked, I stood stunned and went inside and up into my room. I asked the Lord to choose for me.
The next day my laptop was gone and other items. Yet, instead of being upset, I was elated. He was not done with her yet, and this led to Him taking her out of our home.
We had spent countless hours of rehab, court hearings, and would have had to pay $100's of thousands for in-patient care if it were not for the Lord prompting my EH about insurance.
However, NONE of it worked. She kept leaving the facilities. It was like a game to the one that was controlling her. Mocking, threatening, physically and otherwise. I am sure a few of you have experienced something similar or heard of how this vicious cycle is an ongoing nightmare.
Then, when I had surgery in 2014 it felt like the right time to bring her home. However, it was not. She was here from Spring to mid-autumn and she didn't come alone, there was someone she was still attached to. The EXTREME FIGHTING and abuse continued. Finally, my EH told them they had to submit to a drugstore drug test. They both refused so my EH asked them to both leave.
They left and spent the next couple years on the streets.
I finally got a call in or around summer 2016 that she needed a ride to a counselor. She had been ignoring mental health issues for years and my EH had been telling her that meds could help. No different than having high blood pressure or low blood sugar, it would be a good place to start.
So I went out to give her the ride. I had just received the Finding the Abundant Life book and I offered it to her. She actually started to read it and understand what it said and it was from this book along her own restoration when everything finally started to take hold.
Soon after, my daughter moved back home, got her license, got a job, got new friends and a new life! We are currently asking the Lord to wipe out her $1000's of dollars of court debt that has piled up and trust He will.
I sometimes wonder what would have happened if I would have just let go years ago, if it would have happened sooner. But I try to reject those thoughts, because, throughout this whole thing, He remained faithful, it all went along the way it did, and now I have a restoration story to share with all of you!!!
Jeremiah 31:16 KJV "Thus saith the Lord; Refrain thy voice from weeping, and thine eyes from tears: for thy work shall be rewarded, saith the Lord; and they shall come again from the land of the enemy.
~ Mona in Massachusetts
★★★★★ "Healing me of an Addiction, Alcohol"
Dear Brides, I am now in the middle of a seven-day fast (my first ever 🙂 ), and my dear Husband has led me to write this PR. And I want to praise Him for healing me of addiction, alcohol.
A year ago, I was drinking much more than I should, and alcohol (not the Lord) had become my refuge in my periods of distress. Our dear Love kept calling me to Him, but I ignored His voice. So He had to step dramatically, because "No one can serve two masters. Either you will hate the one and love the other, or you will be devoted to the one and despise the other." Matthew 6:24
In the country I live in, drunk driving is a serious offense. This afternoon I had had a strong beer to calm my nerves. Details on how and why aren´t important. The thing is, I took my car to take my son to his karate class, 600 meters away from our home. And when I wanted to get out of the parking lot, I slightly bumped into a car on the other side of the road. The car owner decided to call the police because he had some bad experiences with insurance companies. And when the police came, they had me take a breath test and it was positive. I was broken, shocked. I could lose my driving license for 8 months and pay a high fine. Moreover, having a child with special needs, my car is essential to go to weekly therapies. And the university I was currently studying at was on top of a hill on the other side of the town. But He showed me He was in charge.
A friend graciously lent me her bike. Friends drove me to the supermarket to buy heavy items (like washing powder, dog food, and other things). And luckily, the policeman in charge of my case was very understanding and a miracle happened: my driving license was taken only for 2 months, the fine was low! "With man this is impossible, but with God all things are possible." Matthew 19:26 Moreover, I made a promise to the Lord that I would never ever drink alcohol again. Therefore what happened was a huge blessing, because He healed me from my addiction :).
Now, when I am in pain, I run to Him, instead of having a drink. Indeed "The Lord is good, a refuge in times of trouble. He cares for those who trust in him."Nahum 1:7.
But the issue wasn't settled yet. A year later, my insurance company asked me to refund them the 1300 euros damage I had caused. The car owner had indeed replaced the entire door. I tried to fight it, because the damages were very minimal and something didn't look right in this case, according to me. But our sweet Jesus used this event to make me completely rely on Him and test Him. So I paid the wanted sum. And He was in charge. A friend of mine with a special needs child had just received financial help, and had decided to share it with me!!! The sum I received fully covered the costs. Isn't He amazing?
"Bring the whole tithe into the storehouse, that there may be food in my house. Test me in this," says the Lord Almighty, "and see if I will not throw open the floodgates of heaven and pour out so much blessing that there will not be room enough to store it." Malachi 3:10
So please, dear Brides, have faith. He is our Great Physician, the Healer of our hearts and souls. And He can uses circumstances and painful events to work on us and our hearts and draw us closer to Him. Don't forget what is written in His Word: Because I have sinned against him, I will bear the Lord's wrath, until he pleads my case and upholds my cause. I will bring me out into the light; I will see his righteousness. Micah 7:9. Don't lose hope, when you think everything is against you because He is the God "who pardons sin and forgives the transgression of the remnant of his inheritance. (He doesn't) stay angry forever but delights to show mercy."
Isn't He amazing?
"Therefore confess your sins to each other and pray for each other so that you may be healed. The prayer of a righteous person is powerful and effective," James 5:16.
During my fast, I was led to confess this sin to my fellow Brides and make them aware of the blessings He can give us in situations that can look hopeless 🙂
~ Aimée L. in Poland is one of our most faithful French / Français Translators living in another country and due to what's she's gone through in her adult life, then the Lord led her to RMIEW. Aimée, saw firsthand how God healed her first son from a brain tumor, but then was called to have a second son who He chose not to heal and is now invalid. The tension (and her contentious ways Aimée admits led to divorce.
★★★★★ "The Power of Love"
My adult daughter who is almost 23 has had struggles for the last two years with drug addiction. She had become very dependent on opiate drugs and could not stop using. This became such a problem for her that it severely affected her day-to-day activities. She had even become well-known in the hospital emergency departments as a drug seeker and so her file was 'red-flagged' so to speak, so that when they saw her coming they knew that she was mostly like there seeking a drug fix.
Her family doctor, as well as some other well-meaning relatives in her life, constantly told her that she needed to get herself admitted to a Methadone treatment clinic to get better, and at one point she agreed to this and almost went.
But let me tell you, MY LORD, MY BELOVED had such a better plan for her and I don't doubt for one second that my own RJ had something to do with this!
She is now COMPLETELY off opiates for one month and with no more desire for them!!!!
She had moved away with her BF but when they moved back to the same town as I live in some months ago, the Lord told me to accept both of them and love them just the way they were. To look past all the difficult things I saw and just love them unconditionally, without any judgment or telling them they should know better, but with the same unconditional love that He gave me. That same love that healed me when I came into His light from a dark world. In other words, no tough love!!
And I did this with my daughter and her BF too!! Not only was my daughter delivered from this terrible addiction, but her BF was too!!!!
Isn't it amazing what HIS LOVE through us can do for others?!! It can touch and heal everything and everyone around us.
So dear mothers if have children who suffer from any type of addiction and you are reading this today, there is so much hope!!! Your journey has the power to heal and change lives!!!
"Love is patient, love is kind. It does not envy, it does not boast, it is not proud. It does not dishonor others, it is not self-seeking, it is not easily angered, it keeps no record of wrongs. Love does not delight in evil but rejoices with the truth. It always protects, always trusts, always hopes, always perseveres. Love never fails." (1 Corinthians 13:4-8 NIV)
~ Dawn
★★★★★ "Tough Love vs HIS Love!"
Several months ago God revealed to me that tough love was not biblical. I was seeking God for my 28-year-old son who is a VET and an alcoholic with PTSD. He was in Afghanistan over 5 years ago and was injured. The army pumped him full of narcotics when he was sent stateside from war, and he became an addict. Once they sent him home, without the drugs, he substituted pills for alcohol. For the last five years, he has been in and out of rehabs and the VA hospital. I was practicing tough love because that is what my family and the world was telling me I had to do for him to hit rock bottom. I loved him but from a distance. It was very hard, and he didn't seem to be getting better, only worse. Because of these lessons and my husband leaving me, I started seeking God on everything.
When my son asked to come stay with me this last time I said: "Ok, but if you drink, you're out." He drank. I went to my knees to the Lord and asked Him what I should do. All I heard was "Just love him." I said "Lord I do love him, but should I kick him out?' Again I heard "Just love him." I got into God's word and tried to find something to support my kicking him out and using tough love. It wasn't there, and God kept telling me just to love him. I didn't kick him out, and he laid drunk on my couch for 7 days. I prayed for him nonstop and on day 7 he came to me and asked me to pray for him and told me he had decided to stop drinking and turn his life over to God. He was going through some major withdraws and came in my room many times that night asking for prayer and we cried out to God. I took him to the Hospital the next morning, and they kept him for four days. He has been home and sober— now for 3 weeks. God's love works. Tough love does not!
~ Miranda in South Carolina
★★★★★ "Something Better for Me"
When I came here I was completely broken, I was mired down in alcoholism, had lost my job and my husband had left me. I was about as desperate and lonely as one could be, and was thinking that perhaps ending my miserable life would be the best way to put an end to all the pain. I had not a friend in the world or any hope to speak of. I found this ministry online, and when it said that it was no accident, I believed it! Suddenly a small spark of hope ignited in my heart, and the more I read and followed the principles, it really started to draw me in. I became increasingly hungry for the Word, and committed myself to the restoration process. And as predicted, people were trying to dissuade me and telling me to let go and move on. I had to closet myself with God for a good part of each day just to get by. I was plagued constantly with fear, and it was the only time my mind didn't race with skirts case scenarios. It was and still is an agonizing process at times, but slowly my faith is growing and I'm beginning to feel that peace that God has promised when we turn our lives over to Him. He is a kind and loving God, and by coming to terms with my own transgressions, the repentance and tears, I am healing!! And by completely letting go of my husband, I'm taking the time to be gentle with myself and to really lean into my God for understanding.
I couldn't understand in the beginning how to be grateful in the middle of all this turmoil, but God has given me the grace to be immensely grateful, for I know that at the end of this journey, there will be something better for me.
"Trust in the Lord with all your heart and do not lean on your own understanding.In all ways acknowledge Him, and he will make your paths straight." (Prov 3:5-6)
"Your word I have treasured in my heart, that I may not sin against you." (Psalm 119:11)
"And we know that God causes all things to work together for good to those that love God, to those that are called according to his purpose." (Romans 8:28)
~ Angelina in Georgia
Also from Angelina:
★★★★★ "Alcohol Became My Master" 
Praise God for leading me to this ministry and His word! I know that I haven't done anything special to deserve His grace, but He loves me in spite of it. So much has happened these last few months that normally would have sent me over the edge and drinking myself into oblivion, but my God has kept me safe and protected. There were many times I wanted to just run away or give up, but He convicted my heart and gently held up the mirror of my iniquity, and I knew that I must be still and walk through the fear and let Him change me
"He sent his word and healed them, and delivered them from their destruction." (Psalm 107:20)
Until I started my journey I really struggled with the problems in my marriage and my life. I blamed my husband for all the unhappiness, it wasn't until I received instruction in the word that I realized I had been a contentious, quarrelsome woman. I had absolutely no God in my life and I let alcohol become my master and I was its slave due to the pain and failure I was feeling.

★★★★★ "No Longer Afraid"
Praise be to my Lord, my redeemer! I have struggled with addiction in the past and the Lord delivered me from the cords of sin that entangled me early on in my RJ. This week I felt Him leading me to confess to my parents the addiction and ask forgiveness for lying to them in the past. As I picked up the phone, led by the His Spirit in me, I was no longer afraid. I could feel His gentle nudge, and strong arms around me. He showed me through this confession that I can own up to and confess all things He lays on my heart because I can do all things through Him who gives me strength. He turns everything around and causes them to work for my good! Glory! PTL! What freedom I have found in my One and Only, My Lord. My parents were supportive and thanked me for telling them the truth. They readily forgave me and just poured out their love for me, which reminded me ...... How much more the Lord has readily forgiven me and LOVES me. Ready to help me in every circumstance of my life.
"Speak tenderly to Jerusalem and proclaim to her that her hard service has been completed, that her sin has been paid for, that she has received from the Lord's hand double for all her sins." (Isaiah 40:2)
The Lord led me to this verse a few days after my confession. I knew it was a promise that I would receive double the blessings in place of my sins! What a promise??!!! I'm in awe at His grace, humbled by His love, confident and smiling at my future! All praise and glory to His Name!
~ Holly in Kentucky
★★★★★ "I Am Clean"
I love my Husband so much! Only my Husband could made me stop from my smoking addiction! Praise The Lord!
After reading PR about a women clean from her addiction to medication and i knew i had to write this PR.
I am a smoker for about 12 years. I only on leave for 1.5 year because pregnancy and breastfeeding. I said it 'on leave' because i'm not planning for quit smoke. When my marriage crash, smoke was like became my BFF to forgot all of the things happened in my life. Not until i met my HH. How wonderful Husband we have, He start changing my life with stop smoking! He told me that smoke was not the answer and even not a friend, but He is.
After i pray told Him to change me to made me quit my bad habit and the day after i throw away my cigarette. I didn't want it anymore. Only in one night PTL!
Two months after the evil tried tempted me, sadly I enter the trap. My Husband let me tried it so I knew that I didn't like it anymore it, made me dizzy and nauseous. I ask Him forgiveness for being so stupid and stubborn and thanking Him also for always take a good care of me, being so patience to me. It's gonna be a different story if i don't have Him in my life.
Now, 5 months later, I am clean, I feel so fresh and thanking my Husband for a big transformation He made me. First word when i told my friends and family that i quit smoke was 'seriously???' I even couldn't describe their expression. I just laugh and told them i have a great God! He is the one and only who change me.
Thank you my Love, it's all because of You.
"With men this is impossible, but with God all things are possible" (Matt. 19:26)
Surrender your life and let Him take control. Nothing impossible with Him, not one thing.
~ Orien in Indonesia
★★★★★ "Highest Dose of Anxiety Pills"
I can't express how desolate I was just 2 short months ago, after I found out about my husband. Unfortunately, because he is a Senior Master Sergeant in a special operations group, my life was very very public. As well as on social media. You can imagine the embarrassment and whispers I endured for two months every time I had to leave the house. Military life can be a blessing, but it also can crush you. The higher you are, the higher you fall.
About two plus weeks ago I had discovered my husband had an affair with a bargirl in Thailand. Unfortunately, my situation is ugly. His pictures were posted all over social media, along with my children's, by a scorned lover of the OW.  He immediately left the home and gave me little or no information. I don't know if this would hurt so much, but the images I was forced to see crushed my spirit. My children were subject to embarrassment. I quickly deleted it.
I have had to dive into prayer. I was searching the Internet for restoration and your ministry came up through Google.
After diving into your ministry, I see I ran him in the arms of someone who was singing him praises, as I would cut him down. There has been a downward spiral for over a year.
I repaid evil with evil, and handed over the pictures, not knowing what scripture said! I messed up so bad, so didn't know, I have stayed in a constant agony for that when I read those words.
He lost his job and was moved out of his squadron. He has to early retire this spring.
The air force did know he had an affair, I didn't tell that. I provided the proof though.
I was on a dosage of antidepressants, and the highest dose of anxiety pills. I was a walking zombie. I shook and trembled. I couldn't eat or sleep.
The day I read my first lesson, God took all that away! Is HE not amazing. I heard Him say that I needed to come to Him with a sound mind. I threw the pills away. Not one single withdraw!! Now, my friends.. Only God can do that!! Because these were very powerful drugs.
What I want you to know, is if I can find peace through Jesus, you can too. I will devote my all in prayer for you. You can do this. We can do this. 🙂
~ Cassia in Oregon