A Wise Woman in Waiting Course
"For the time will come when they will not endure sound doctrine; but wanting to have their ears tickled,
they will accumulate for themselves teachers in accordance to their own desires."
—2 Timothy 4:3
"At that time the kingdom of heaven will be like ten virgins who took their lamps and went out to meet the bridegroom.  Five of them were foolish and five were wise. The foolish ones took their lamps but did not take any oil with them. The wise ones, however, took oil in jars along with their lamps. The bridegroom was a long time in coming, and they all became drowsy and fell asleep.
"At midnight the cry rang out: 'Here's the bridegroom! Come out to meet him!'
"Then all the virgins woke up and trimmed their lamps. The foolish ones said to the wise, 'Give us some of your oil; our lamps are going out.'
"'No,' they replied, 'there may not be enough for both us and you. Instead, go to those who sell oil and buy some for yourselves.'
"But while they were on their way to buy the oil, the bridegroom arrived. The virgins who were ready went in with him to the wedding banquet. And the door was shut.
"Later the others also came. 'Lord, Lord,' they said, 'open the door for us!'
"But he replied, 'Truly I tell you, I don't know you.'
"Therefore keep watch, because you do not know the day or the hour. —Matthew 25
Chapter 5 Won Without A Word

Chapter 7 Chaste and Respectful
Chapter 8 Wives, Be Subject
Chapter 9 Helper Suitable
Chapter 10 Various Trials
Chapter 11 I Hate Divorce

~ Tara is Erin's daughter and the first RESTORATION Baby. Tara is RMI's WEB Designer and Senior Webmaster. While working on A Wise Woman in Waiting choosing to keep herself morally pure until her wedding day, her wait ended on August 20, 2021, when Gentry and Tara were married! And since "nothing is impossible with God" Gentry also waited and stated, "I saved my heart for my future wife." Gentry finally found the wife he had been seeking, Tara, near the end of her Living the Abundant Life Tour in 2018 but it wasn't until 4 months before they married that God revealed Gentry to Tara.
WAIT
Psalm 37:7—
"Rest in the Lord and wait patiently for Him"
Habakkuk 2:2-3—
"Then the LORD answered me and said, 'Record the vision and inscribe it on tablets, that the one who reads it may run. For the vision is yet for the appointed time; It hastens toward the goal and it will not fail. Though it tarries, wait for it; For it will certainly come, it will not delay.'"
Isaiah 64:4—
"For from days of old they have not heard or perceived by ear, Nor has the eye seen a God besides You, Who acts in behalf of the one who waits for Him."
Isaiah 30:18—
"Therefore the LORD longs to be gracious to you, and therefore He waits on high to have compassion on you."
Isaiah 40:31 KJV—
"But they that wait upon the LORD shall renew their strength; they shall mount up with wings as eagles; they shall run, and not be weary; and they shall walk, and not faint."
2 Corinthians 2:11 The Voice—
"It's my duty to make sure that Satan does not win even a small victory over us, for we don't want to be naïve and then fall prey to his schemes."
1 Peter 5:8—
"Be of sober spirit, be on the alert. Your adversary, the devil, prowls around like a roaring lion, seeking someone to devour."
Hebrews 12:1—
"Therefore, since we have so great a cloud of witnesses surrounding us, let us also lay aside every encumbrance, and the sin which so easily entangles us, and let us run with endurance the race that is set before us, fixing our eyes on Jesus, the author and perfecter of faith, who for the joy set before Him endured the cross, despising the shame, and has sat down at the right hand of the throne of God."
WWW Fellowship
Wise Woman in Waiting Fellowship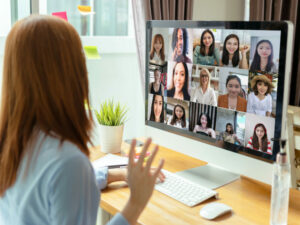 Get ready!
Are you ready prepared so that you can enjoy your new life?
Have you...
Taken care of children?
Changed diapers?
Do you...
Understand and you're prepared for breastfeeding and supernatural childbirth?
What about keeping a home...
Cooking?
Baking?
Cleaning?
Organizing?
Decorating" 
The best way to learn is to DO it. So right now, if you long for but still do not have children—GOD says to GIVE!!
"GIVE, and it will be given to you. They will pour into your lap a good measure—pressed down, shaken together, and running over. For by your standard of measure it will be measured to you in return." Luke 6:38
It's as simply as offering to help with children and babies—like single moms who need help and would welcome an offer not having to pay. But first you need to learn. 
Who do you know who has well behaved happy children? Offer to help, let them know you want to learn. Look for large families who homeschool and have children who are polite and happy. Ask God where these mothers are. Then GIVE you time and heart to help—learn—then just keep on giving!!
Once you learn, remember to GIVE it away. Serve. Once again...
"GIVE, and it will be given to you. They will pour into your lap a good measure—pressed down, shaken together, and running over. For by your standard of measure it will be measured to you in return." Luke 6:38
If you spend any time with little girls, share His Princess stories and His Princess WW stories that may very well, encourage you too!!
In order to encourage each other and share PRAISE, we meet together every other week in a WWW Fellowship. Be sure to read about our Fellowships on Zoom so you're prepared and know how to be invited!!